This month I undertook the renovation of my powder room. I've learned so much about the key to a happy life, as a result.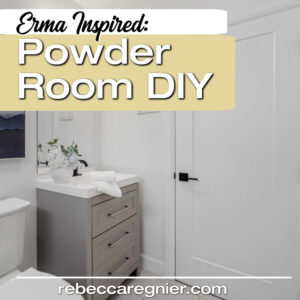 It's called the powder room because in the 18th century, no one wanted to think about women using a bathroom for bodily functions. Society and in later centuries, real estate agents agreed that powder room is so much nicer to say. Our powder room is a half bath, suitable for visitors to do whatever they need to do. Unless they need to do jumping jacks. It's way too small for that.
Our powder room is the only bathroom I'm comfortable allowing visitors into to complete their powdering needs. I cannot allow them into my bathroom. They'd have to walk through my closet to do so, and that, dear reader, would mean exposure to my clothes piles. These garment heaps, based on what fits, or what I've flung off in frustration, certainly are not suitable for guests. Worse, guests might also see how selfish I am. I "share" this walkthrough closet with my husband. And by "share" I mean he gets six inches of space.
The boys' bathroom certainly isn't suitable for guests. Society has also agreed upon this fact.
Quite clearly, the powder room is the safest option for guests. I decided that if ever we emerge from the Great Quarantine, guests would know I love them. And my love language will be fancy hand towels and open shelving.
To begin, I painted the walls, ceiling, and vanity cabinet. Painting is the kindergarten of home improvement. I graduated to hanging those open shelves. With this project, I learned to quit when one is ahead. Why hang the third shelf, when two, are miraculously level?
The next area is perhaps my biggest lesson, under the expert tutelage of a home improvement professional, I installed a tile backsplash. Finding a skilled and patient teacher was the key lesson here. Overcoming a rational fear of power saws to emerge with on-trend subway tile required positive self-talk, patience, and embracing fractions. I cried like I'd reached the summit of Everest when I positioned the last puzzle piece of tile. It was a good cry.
The last lesson was, hire a guy. I have learned new things, but is it always a good use of time? No. I hired that same skilled professional who taught me to tile to install the vanity and fixtures. He did in one hour, what would have probably taken me until next year.
The resulting powder room update is Joanna Gainesian in its black and white industrial farmhouse perfection. It is a combination of my blood sweat, tears, and maturity. It has a decorative jar of cotton balls. It is my gift to guests. It is a place for them to go when they have to go.
August, this month of the powder room reno, I was selected as the Erma Bombeck Humor Writer of the Month. Erma inspired thousands of columnists with the ability to make us laugh through domestic disasters. I tell you this, not to brag, wait, no, it's totally to brag! Erma is why I write what I write. But honestly, if the next time you powder something, you think of this column and chuckle, I've done my job. Which I owe to Erma.
Finally, I've learned from Erma, that finding the funny, when you're elbow-deep in a toilet tank water, to replace a handle, so it matches your new fixture is the key to a happy life.
Originally Published in Monroe News 08/28/20