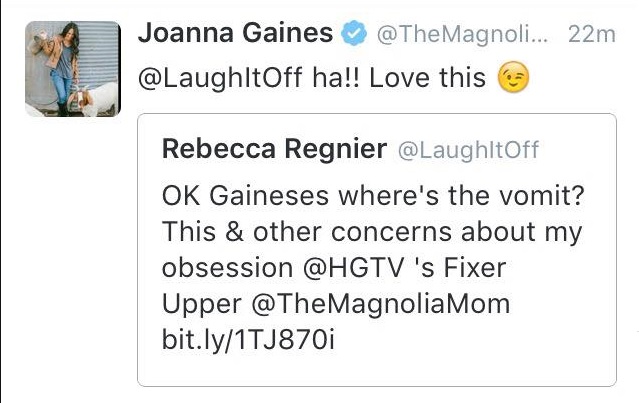 Yes THEE Joanna Gaines liked my column one time. Here's the column, which ran in 2016 originally. I mean if she likes it YOU WILL TOO!
Every so often a show on HGTV gets me hooked. I've written about "Beachfront Bargain Hunt" and a few others.
With these shows there's not really a host. There's a faceless narrator saying things like, "Will the Hendersons choose the Cul-de-Sac New Construction, the Suburban Oasis or the Retro Ranch?"
Then along comes "Fixer Upper" with Chip and Joanna Gaines. As the opening of the show states, the duo, based in Waco, Texas, takes the worst home in the best neighborhood and fixes it up. Chip and Joanna make me want every single house they fixer up.
The show is a runaway hit, breaking viewership records for HGTV because Joanna Gaines is a Pinterest board come to life and Chip does whatever his wife wants, while smiling. To borrow a slogan from another show, I want to believe …
Joanna is a tiny brunette with an edgy fashion sense and Chip is a big ol' country boy blond with phasers set to goofy at all times. Every outfit Joanna wears screams mom cool. The children these two have produced almost hurt my eyes with their combined magnified cuteness.
This Pinterest-come-to-life show leaves me wide-eyed after every renovation. How in the heck did they turn a shack with raccoons in the floorboards into spacious, high-end Texas Chic Ranch? That rusted metal shed is now a 3,000-square-foot palace. The answer, of course, is that the clients spend six figures a pop. But let's not go there, it spoils my fun.
Chip and Joanna remove walls, popcorn ceiling and old cabinets with a wink and a kiss.
In real life, house renovation with your husband is usually a crime scene. My husband and I almost ripped each other's throats out trying to install a dimmer switch. Wall removal? It's always load bearing with critical wiring and duct work hidden inside. Always.
The family aspect of the show is just as addictive. They have a farm with baby animals. She bakes, gardens and has a cute shop where she sells cute things. I can't get enough.
Chip and Joanna Gaines have rusty-nailed down an industrial farmhouse style in the same way Martha Stewart made us all covet New England style in the 1990s. If I don't find shiplap under some of this boring drywall I might die. If Joanna likes it, I must have it!
But I do have questions. They have an HGTV show, a store, a bed and breakfast and a line of furniture. They have four kids and a thousand animals. Where is the nanny? Who is helping them? In the name of wide-planked wood floors, can we see at least a little of that?
If you have four kids, a farm and a business there's going to be chaos. Where's the vomit? Where's the poo? Where's the scene when the teacher looks at Joanna with scorn because she's late to Muffins with Moms due to the fact she's building a friggin' empire? Yah know?
I just want a little vomit with my shiplap.
Who am I kidding? They'd probably make that look cute, too.