Our upstairs bathroom was designed in 1999 for two little boys. The "Boys' Bathroom" is big, served them well, and also served as the extra bathroom when we hosted a party or holiday event. But by 2021 the boys were grown it was WELL overdue for a spruce up. I decided to leave the tub and sink but upgrade just about everything else! I wanted a clean modern look but also not feminine as this is still used primarily by the men in the house.
Here's the before: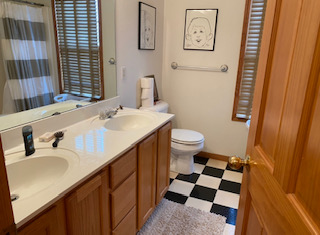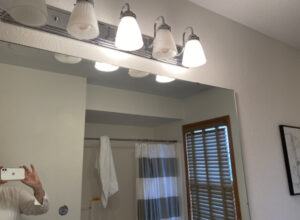 Here's a list of things I did.
Painted the walls
Painted the ceiling
Painted the door
Replaced the old baseboards
Gel Stained the 90s builder grade cabinets
New sink fixtures
New bathtub fixtures
New cabinet hardward
New toilet handle to match new hardward
New tile floor to replace 90s vinyl
New light fixture
Removed old mirror
Stained new mirrors to match cabinets
Retained the two cute characatures of the boys who used to use this bathroom circa 2000 when we built it.
It took about a month to complete, from Mother's Day to nearly Father's Day. I've linked the products below if you're looking to replicate this 90s Builder Grade Bathroom Update to 2021.
Varathane Gel Stain – Mahogany
allen + Roth Soft Gold Geometric Traditional Cabinet Nob
Tuscany Forden One-Handle Matte Gold Faucet
Satori Regent Carrara Nevosa Tile
Follow me on Instagram for frequent updates on my DIY adventures in updating my 90s era builder grade home.