We're barreling toward the mid-2020s. Whoa.
I've just ordered my Jetson style-flying car from Amazon. 2023 does sound like we've arrived in the future.
Be that as it may, we still have to take out the garbage, empty the dishwasher, and clean our houses. We do have smart appliances, doorbells, cars, and thermostats, so a little of 'The Jetsons' has come true. More than anything else, the 2020s have demonstrated, in the words of Ruth Langmore, "We don't know "sh*t about f**k, Marty."
For several years, I've eschewed resolutions and focused on a word for the year.
In 2018, my word was "create." It was designed to help me transition into a new phase of my professional life. I abandoned working for a big company and started working for myself, to create books.
Since 2018 I have released eighteen books. Create has become a permanent fixture of my workday life. The word has embodied what I do daily. Yay 2018 Word of the Year! You and I are one.
In 2019, I took a more specific approach to my word for the year. I observed others choosing expansive words like "joy" and wanting to go against the grain, I selected "water" for 2019. I hoped to help my health and general well-being by being fully-committed to being fully hydrated. In terms of manifesting action based on a word selection, I failed miserably. Not only did I not drink enough water in 2019, but I also drank way too much diet soda in 2019. The word "water" was a total bust.
For 2020, my goal was to replace the carpet in our family room, I was tempted to select "floor covering" as the 2020 word. Small-minded? Sure. True? Absolutely. But my 2019 failure with "water" showed me it is best to select a word with a higher goal.
I considered choosing the word "lunch" for my 2020 word. I want to commit to lunch dates with friends and family in 2020. In 2019 I made little time to "do lunch." The times I did meet up with someone for a midday meal left me happy, restored and connected to the people that mean the most to me.
Except I didn't make time nearly enough. Therefore, "lunch," became a front-runner for 2020's word.
In the final moments of 2020, a new word emerged. One that was broad in scope, like "create," but one that helped me get the most out of work, home and even lunch. With that in mind my 2020 word was "focus." I chose it to point my energy towards the people and activities I loved. So in 2020, I chose "focus" with the goal of connecting with people. HAHAHAHAHA.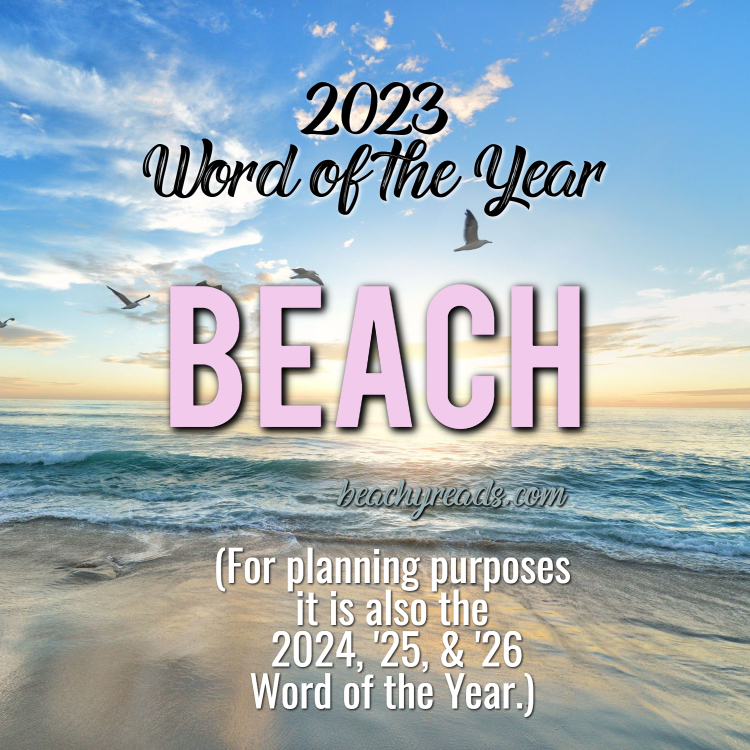 Anyhoo. After that disaster, I skipped the whole word choice exercise in 2021 and 2022. I mean survive? That was really the only word we could do right?
But I'm back, and I'm trying again.
This year, I've selected the word for the year. I'm selecting "beach" as my 2023 Word of the Year. More beach books, more beach mindset, more actual beach. It also is my 2024, 25, and 26 Word. May as well get the jump on things.
Happy New Word and Happy New Year!!