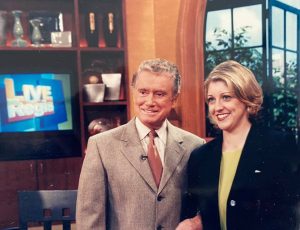 Regis Philbin died Saturday at the age of 88. I met him once and have a story that debunks the old admonition that you should never meet your idols.
Years ago, Philbin and I had the same boss — Disney.
I was on-air "talent" for a Disney-owned and operated television station, and Regis, back then, was the host of "Live," produced by a much larger Disney-owned station.
"Live" was searching for a co-host to replace Kathie Lee Gifford. I was sent to New York to cover that search, as it briefly touched the Midwest.
Without a doubt, it was a highlight of my 20 years in broadcasting.
Regis is an icon and certainly an idol of mine. He's an example of what a broadcaster can be. He was engaged, energetic, knowledgeable about a wide range of topics, and curious. He was a true host, seamlessly letting his co-host and guests shine — so much so it was almost easy to miss that he was the star.
His ability to weave a story from nothing and leave you laughing was something I have aspired to not only in my broadcast career, but also here in this column.
Philbin started at the bottom, worked his way up and always seemed grateful.
My job for that day was to observe Regis Philbin and interview him. Great work if you can get it! Here's what I learned.  CLICK HERE TO CONTINUE READING…